My wife Tracey and I were so happy when our daughter Kaitlyn and her husband Ben told us that she was pregnant with her second child – our next grandchild. We couldn't wait for Kaitlyn's young son Cooper to have a little playmate.
One night during her pregnancy, Kaitlyn rang us to say that she thought something was wrong with her baby. She hadn't felt any movements for a while. We reassured her that she was going in the next day for a check-up anyway, and we didn't think much more of it. We thought that the check-up would find that everything was normal.
The following day Kaitlyn's husband Ben rang our office, and I'll never forget that moment. My wife answered the phone and she didn't speak, she just let out a scream. That's when we learned the heartbreaking news that our daughter's baby had died.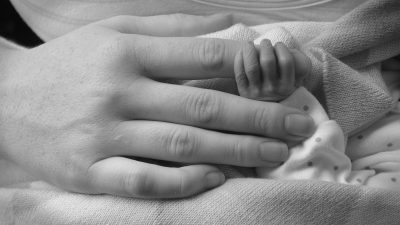 Kaitlyn had to go back to hospital the next day, 13 February 2015, to give birth to her baby – a perfect little girl named Addison. We could barely contain our concern for our daughter. How could we help her? Nobody should go through that. It's a harrowing experience that I wouldn't wish on anyone.
Tracey and I got to meet our beautiful granddaughter Addi, and were able to hold her and cuddle her. It was very special and something we'll always remember. But it was tinged with an overwhelming grief. The hospital staff were so amazingly supportive, and Kaitlyn and Ben were able to spend a precious day with Addi in their hospital room.
But then the reality of it hit us all. Instead of looking forward to joyous milestones in Addison's life, we were having to organise her funeral. It was so confronting. Our thoughts were completely for our daughter and our son-in-law. Making sure that we could give them all the love and support they needed. Together we got through it – but it still didn't hurt any less.
I'd been strong up until the day of the funeral, but when the time came to carry out Addy's casket I just couldn't continue. We were very lucky that we had such loving family and friends who were with us, and our son who was in the US and couldn't return in time was able to be there on Facetime.
I have such admiration for how strong our daughter was that day, and how she continues to deal with it. And Tracey was the rock who helped keep everyone together.
We keep Addison's memory alive by always celebrating her birthday as a family. Kaitlyn and Ben also have two other beautiful children, one older than Addi and one younger. Addi's siblings know that they have an angel as a sister.
Since Addi was born, we've learned that parents should feel that they can have a say in pregnancy care. If you're concerned that something isn't right, don't think you're annoying the doctor, just go and see them.
We really want to do what we can to understand more about why stillbirth happens and what can be done to prevent it. My son Matt and I own CycleBar, an indoor cycle studio, so we came up with the idea of the 'Ride for Addi' – a special fundraising class where our members pay to participate and our instructors donate their time. When I talked to Kaitlyn about this idea, she was on board straight away.
On the day of the ride, we had a montage of photos of Addi on the big screens in our cycle studio. Before the class, Kaitlyn spoke about being a member of a club that no-one ever wants to be a part of. We didn't try to hide the emotional side of things. We raised over $2,000 for stillbirth prevention and our next goal is to turn the ride into a national event known as 'Addi's Day'.
More stories